When I first graduated college, finding my first full time WAS a full time job. I had created an expansive Excel sheet that I used to track my job applications, list critical contact info of hiring managers, and when and how I had contacted them.
It was a mess, to put it nicely.
Today, my "system" would be totally different. With the rise of mobile applications and internet browser extensions, task and contact management tools that once were clunky and expensive are now widely available and free!
Here are the 4 apps that I recommend you start using to more easily track every aspect of the job hunt: networking, following up, task tracking and habit making.
Rapportive, https://rapportive.com (Free, Gmail)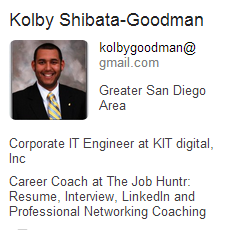 Rapport is an awesome browser add-on that hooks into your Gmail account and gives you a nice little profile window for each one of your contacts. It displays their profile picture, links to social media accounts, and even allows you to display their position and company (which is pulled from LinkedIn). I love Rapportive because is allows me to be active in what my network is doing, right from my inbox. I can see if one of my contacts has a new job, or what someone is saying on Twitter. There is also a space to leave notes for your own personal use. That area is an easy and convenient place to remind yourself to follow up or to ask about their birthday the next time you email.
Boomerang for Gmail, http://www.boomeranggmail.com (Free or $4.99/month, Gmail)
It can be hard keeping up with important emails and to do lists, but Boomerang allows you to set an auto reminder if email responses are not sent in a certain amount of time.Another feature I love is that it allows you to schedule emails to be sent at a later time or date. The ideal times to send emails is right as the work day is starting or right after lunch. So, if you are like me and tend to write very late at night or early in the morning, you don't have to worry about saving your draft to send later. Once you schedule, it's set it and forget it. The free version of Boomerang allow you to set reminders for 10 emails per month, upgrade to unlimited emails for just $4.99/month.
Any.do, http://www.any.do (Free, iOS, Andriod, Chrome)
Everybody has their own method of productivity, and more often than not it includes a to-do list. Avlaible on iOS, Andriod and Chrome, Any.do allows you to set to-do's and reminders at a specic time or location. On top of that, all of your to-do's are synced across all platforms, which means if you check off "Pick up dinner"on your iPhone, it will reflect in your Chrome on your computer. Another great feature of Any.do is that you are able to perform actions right within the app. If you are reminded to "Call David S. today at 3pm," you can tap the Call Now button and Any.do will automattically launch the Phone app and call David S. Same goes for text messaging and emailing. Their Chrome app also has a toolbar embedded in your Gmail, allowing you to directly create to-do's related to email without having to open the app.
Lift, https://lift.do (Free, iOS, Andriod)
Lift is an awesome mobile app that helps you create better habits. Once you log in, you set up a list of habits that you want to keep, whether it's drinking more water, eating your vegetables, or performing a daily random act of kindness. There are pre-established habit "lessons" which take you through the first 21 days of your new positive habit. Right now I am taking "Intro to Meditation" which is accompanied by 21 audio lessons, one per day. Once you complete one of your daily habits, launch the app and tap it, and you're done. You can also add notes to that specific day's habit. What's really great about Lift is the communal feel that the app and its users have. You can find people to follow on Lift, and even give others "props" for starting or continuing a habit. Connect with me on Lift, user: Kolby Goodman.
Do you have any go-to apps or tools that you have used to help manage your professional development? Let me know in the comments below!